Articles – a TA named Rufus…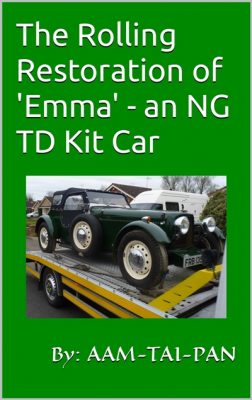 Alan Myland purchased another NG TA which he called 'Rufus'.
As part of the refurbishment of Rufus he has documented some very interesting articles that will be of interest to lots of our members, especially the newer ones. He has kindly made them available here, they are all PDF's.
Alan has written a number of books and his latest is The Rolling restoration of 'Emma' – an NG TD Kit Car (which is available as an eBook on Amazon at only £2.49).
Another interesting book is 'Let's Build a Kit Car – The Story of Kermit an Aero Cyclecar' (which is available as an eBook on Amazon at only £1.99).
---
Modifications during Strip-Down
Rufus Making a New Engine Bracket
Rufus Gets A New Heater Part 1
Rufus Gets A New Heater part 2
Understanding the Electrical System
On 03 June 2021 I purchased an abandoned MGB based NG TA (which I named 'Muffin') he had been sitting on top of wooden pallets and under a tarpaulin for many years, he was purchased sight unseen and I had great plans for him.
The plans included a lengthened chassis to bring the radiator cowl back in line with the centre of the front wheels and a longer bonnet. When increasing the wheelbase you need to take into account the 'Ackerman Principle' (a line drawn through the steering arms should meet 3/4 to 7/8 of the way towards the back axle). Complying with the Ackerman principle should result in good steering, but don't forget that the principle was originally based on vehicles with 'rigid beam' axles and the technology/application has changed slightly with the advent of independent suspension.
When Muffin arrived I stripped him down and was disappointed to discover a very flimsy chassis with no cross bracing whatsoever. As far as I can ascertain this was a very early car. Shortly after purchase I noticed an advert by NG cars who were selling an abandoned NG TD. I immediately purchased it with a view to modifying that later chassis.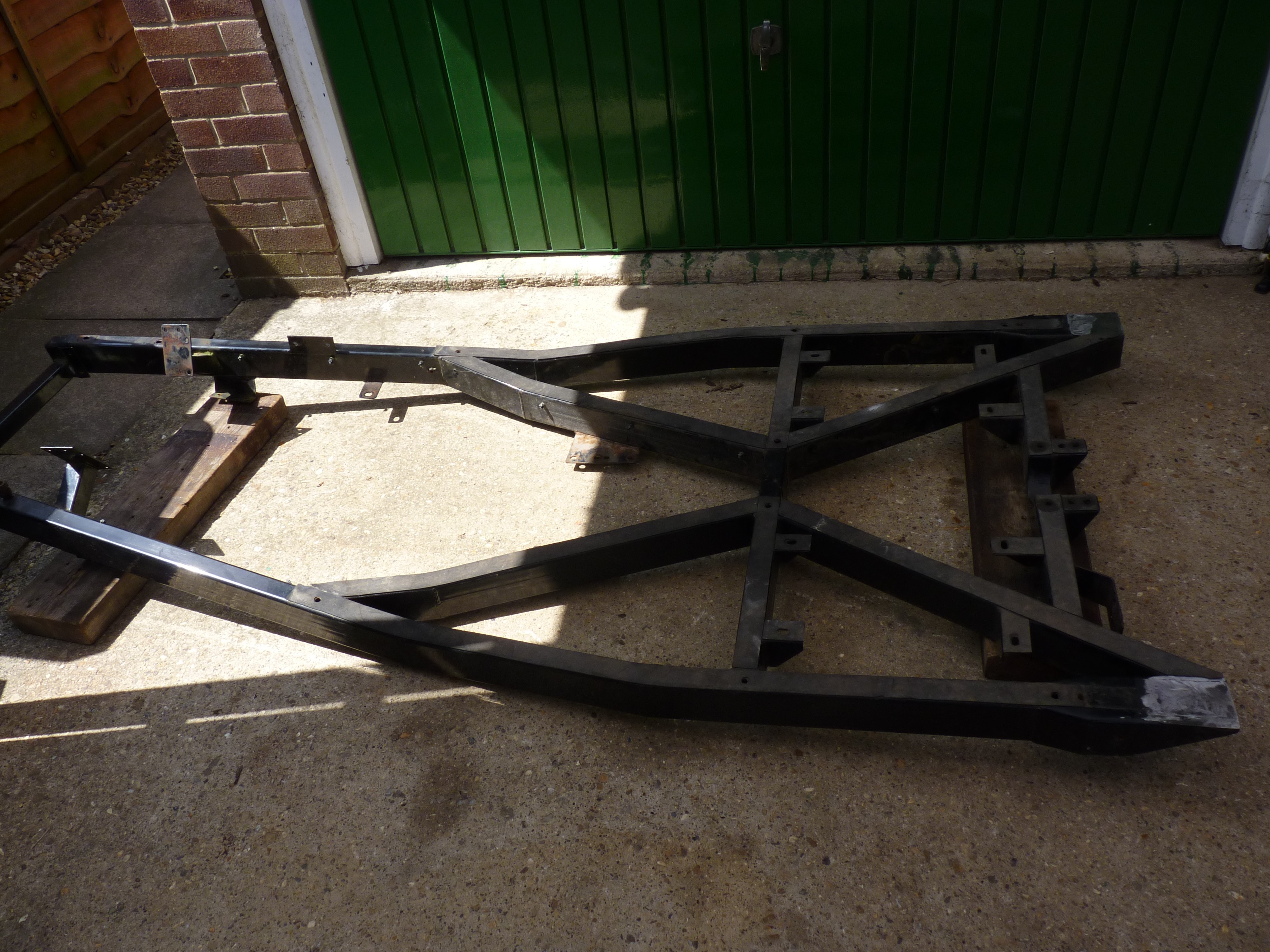 The modified chassis awaiting a new rear end.
With the TD in pieces I cut the rear end off of the chassis to accommodate the different shape of the TA body, I was at that stage when my best friend, a fellow motoring enthusiast, called round on a visit. The subsequent discussion revealed that I might be breaking the law. A question on the Forum revealed no definitive answer so I wrote to the DVLA. Their reply was that if I continued with what I was doing they would remove Muffin's Historic Vehicle Status and issue him with a 'Q' plate after he had passed the latest IVA Test. The end result was that I abandoned my plans and decided to search for a later chassis and build him back to original on the later chassis, this apparently was allowed.
After searching for almost two years for a replacement chassis I came across an MGB based NG TA (who I named 'Rufus'). He has the later chassis and has now become my latest project.
Rufus was built in the late eighties/early nineties and is correctly registered in the V5C as a 'TA Pullman', enquiries have revealed that he was a very early Pastiche built car. He is currently undergoing a full restoration and being aware that any alterations to the chassis can result in the loss of Historic Vehicle Status I am not going to cut off or add anything to the chassis, the only addition to the chassis will be short running boards (foot-steps) that will be on brackets bolted through existing chassis holes.
The planned modifications are quite numerous and will appear on a separate list.
Rufus by the way is another boy and he won't be in the more popular red, green, white, black or blue etc. paintwork schemes. Like my original plan for Muffin the body and wheels will be in RAL 9001 Cream or RAL 1014 Ivory with a RAL 8017 Chocolate Brown radiator cowl and mudguards. Not a popular colour, nor everyone's cup of tea I'm sure. These were the basic colours of an early MG racing team called the 'Cream Crackers'.
We all have our little foibles when building or restoring old cars, or kit cars. My personal 'Bling' includes the dashboard, wiring, lights and steering wheel. I shall throw away the old loom and build my own. The dashboard will be built from a faux burr walnut blank and all switches will be new.
The photos show Rufus being delivered by Tom Junior (Tom Senior delivered Muffin who has since been sold).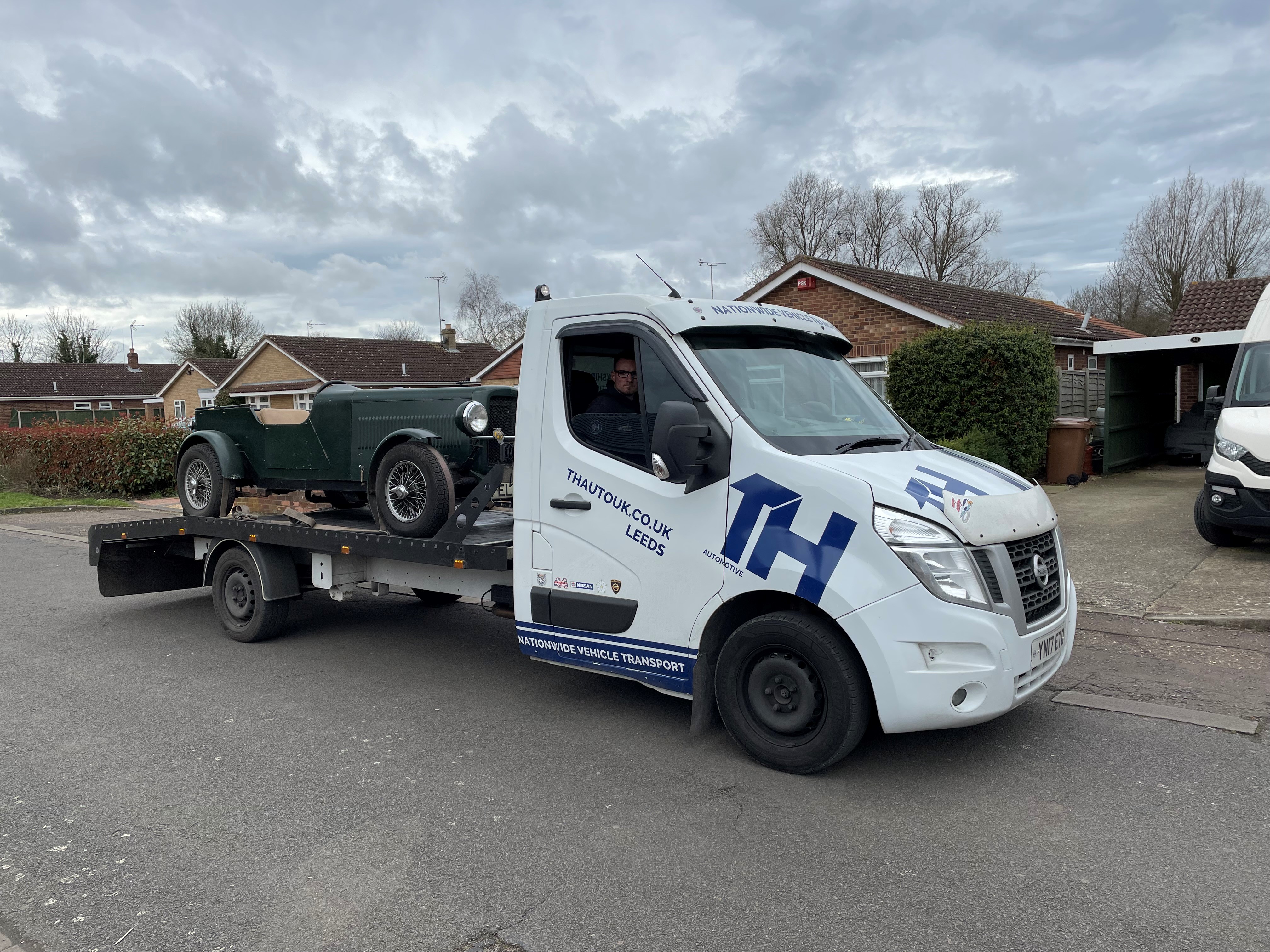 Delivery of Rufus 17 March 2023.