National Rally 2007 (June 29-July 1)
Hi All, Sorry to be the bearer of bad news but following a phone call with Bob Preece last night I have to announce that due to extreme weather the rally field is totally submersed!! meaning the club has no choice but to CANCEL the event next weekend PLEASE let everyone know especially if they planned to travel!! Devistating news for those of us that were really looking forward to the event. More news when available!
Riverside Caravan Park Nr. Tiddington, Stratford-upon-Avon, Warwickshire CV37 7AB. By popular demand, we are returning to Riverside for our second visit.
As it's name suggests, the site is beside the River Avon and adjacent to the village of Tiddington, one mile outside of Stratford-upon-Avon. We have a large level field for the club's use and the usual marquee will provide shelter from the scorching sun (or perhaps less clement weather). Gas barbecues and a tea/coffee urn will be to hand to make for a relaxing time. The on-site shop sells a limited supply of food but several members last year discovered an inexpensive and hearty breakfast was also on offer!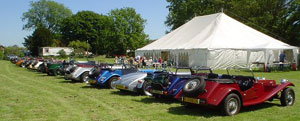 We are allowed to camp on the field with a tent or caravan (£12 per unit per night). There are also plenty of Bed & Breakfast places nearby. A river taxi runs from the site to the Royal Shakespeare Theatre in Stratford or, for the more energetic, there is a riverside walk.

Fishing is allowed on the banks of the river and Tiddington has a Post Office stores and a pub which serves food.There are also a number of villages around should you wish to explore the countryside in your NG. There will be more details in the June issue of ChangiNGear but, in the meantime, put this date in your diary and let's see if we can make it a bumper year for attendance – I do hope to see you all there! Chris Humphreys